Thanks for visiting! Just a fair warning this post is fairly 'old' in tech terms and may contain outdated information and/or broken links or pictures. Please verify info and feel free to
contact me
if questions!
Well the move was inevitable.  Which move?  Well if you are a FeedBurner user and haven't been paying attention for the past year, you may not have known that Google bought them and are transitioning the service to their infrastructure.  What does this mean to you?  It depends.
If you use the core FeedBurner service and use the "feeds.feedburner.com" URI for your subscription links, then generally speaking you should be fine.  Google has planned to redirect that URI to their updated one once you move your feeds (or you could also use "feeds2.feedburner.com" afterwards as well.  Users that fall into this bucket I think will not see much issue.
Those of us who use the "MyBrand" feature of FeedBurner, where you can use your own top-level-domain as the feed link (i.e., feeds.timheuer.com) are more affected.  I moved all my feeds to the Google infrastructure yesterday (they will force move everyone by 27 Feb 2009 anyway so I figured "why not").  Here's what happened.
Initiated the move
Move seemed flawless for the 25 feeds I have "burned" with FeedBurner – it transitioned to my Google account fine
Went to check my "feeds.timheuer.com/timheuer" link and boom, 404 error.  Suck.
Even though I followed the new instructions on changing the CNAME it was still failing and my FeedBurner URI was getting a 404 Server Error page (as was anyone wanting to subscribe).  I've since gained some wisdom and wanted to share it with you.  Here's my recommendations for those who use the MyBrand service.  I know others have had issues, and I just wanted to share my experience with the interwebs in hopes it might help some others.
NOTE: MyBrand is a feature of FeedBurner (now Google Feeds) that allows you to use <something>.yourdomain.com as the primary URI to your burned feed instead of the default feeds.feedburner.com URI.  This is highly valuable as then ultimately you are in control of your feed endpoint.  If for some reason you want to move away from FeedBurner in the future, you are still in control of your main feed URI and can redirect users accordingly.  If you aren't using it, I highly recommend it.
First, prior to the move, change your DNS record TTL (time to live) value NOW.  Most DNS services have a long TTL value for CNAME records.  Most of the time the default values are around 24 hours (TTL=86400).  That means any change to that value *could* take at least 24 hours for the Internet to catch on.  Prior to your move, change this value to as low as you can.  My provider lets me change it to 1800 (30 minutes) is the lowest.  Change that value to as low as you can and wait at least 2 days.  What this does is improve your chances that when you do make the CNAME change, that it will replicate faster across the Internet. 
After you've set the TTL on your CNAME and waiting 2 days, initiate the transfer.  Have several tabs in your browser open in the event you need to do some testing/changing of your DNS records, site, etc.  Have access to anywhere you have your MyBrand link on your site ready (i.e., open that Remote Desktop if needed).
Once the transfer has been complete, Google will tell you all is well.  It isn't, if you use MyBrand.  Follow these remaining steps.
Login to your new Google Feeds account.  After logging in click the My Account link: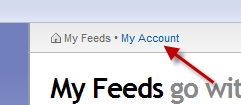 Now click on the MyBrand link on the left.  This will show you the current MyBrand vanity domains you have set up. 
Your new CNAME record will be displayed on this screen and will be something like <loginname>.feedproxy.ghs.google.com.  As soon as you get to this screen, go to your DNS management and update your CNAME record (as well as add a backup record – i called my "feeds2" at the same time)!!!
After you've updated your DNS record, go back to the MyBrand panel and scroll all the way to the bottom and click the "Deactivate" button to deactivate the service:
Trust me, you need to do this.  All the instructions that tell you to simply remove/re-create the vanity URI at the top of this screen are wrong.  You must deactivate first.
Once deactivated, go back to the same screen and add your domains back in (as well as your backup one you created) and click Activate again. 
You should now be fine.  It's weird but this Deactivate/Activate step seems required if you are already using the MyBrand service prior to moving your feeds.  If these steps don't work and your original vanity URI is still showing a 404 error, then use your backup – it is likely working.
I hope this helps anyone prepare during the move!  Once you are satisfied things are back to normal, I recommend going back into your DNS settings and modifying your TTL for your CNAME record to a higher amount (86400 or higher) so you can reduce DNS lookups for your users.
Please enjoy some of these other recent posts...