Thanks for visiting! Just a fair warning this post is fairly 'old' in tech terms and may contain outdated information and/or broken links or pictures. Please verify info and feel free to
contact me
if questions!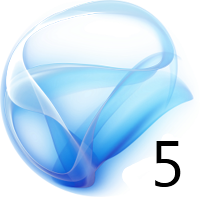 Silverlight 5 is finally released!  Congratulations to the team for getting through some of the toughest parts of finishing a product and validating with customers.  It's been a pretty crazy year for the Silverlight team and this is a really good release for the product bringing some solid features to the platform for folks to leverage in building their apps.
In addition to the platform having a release, I was really pleased to see an update to the Silverlight Toolkit, which has been one of the most popular things almost every Silverlight developer/application uses.  If you didn't know where to get things, here's some links for you:
Rather than enumerate all the good features that were finished from the RC/Beta, you should head on over to listen/watch Pete Brown's presentation on the Silverlight 5 release overview.  He also has a post about the release enumerating in short form (with links to tutorials for some of the key features) on his blog.
What I think is really cool is also the amount of effort put into the Silverlight Toolkit for this release.  The one large thing of note is the extensions to enhance your 3D development experience in Silverlight 5.  David Catuhe has a post outlining in great detail some of the 3D extensions included in the toolkit.  You should really go check out his post.  Scrolling to the bottom I was really surprised/impressed to see a set of 3D samples included to help you understand how to use this feature:
Bloom – uses the Content Pipeline and post-processing effects
CustomModelEffect
Generated geometry – how 3D models generated by code
Particles – c'mon, who doesn't like a particle generator!
Platformer - while not 3D it appears, it is a complete game with levels
3D Animation
Skinning – shows skinning a character using the content pipeline
I mean, wow, great stuff David! 
I hope you all enjoy the release of Silverlight 5 and kudos to the team for getting it out the door. Go download the bits and start building awesome stuff.
Please enjoy some of these other recent posts...